| Home | Order Status | View Cart | Ammo | Bulk Ammo | Magazines | Accessories | Handguns | Rifles |
The Armory: AR-15 Tools & Parts
The Armory is pleased to carry an assortment of AR-15 tools and parts for all professionals, law-enforcement, military and tactical shooting enthusiasts. We have lower parts kits from Rock River, DPMS, and Olympic Arms. Wrenches, pocket tools, sight adjustment tools and rifle enhancements are in stock and ready to ship.
Magpul PMAG 30 AR-15 M4 GEN M3, 5.56x45 Magazine
$14.99
MAG557-BLK


The next-generation PMAG 30 GEN M3 is a 30-round 5.56x45 NATO (.223 Remington) polymer magazine for AR15/M4 compatible weapons. Along with expanded feature set and compatibility, the GEN M3 incorporates new material technology and manufacturing processes for enhanced strength, durability, and reliability to exceed rigorous military performance specifications.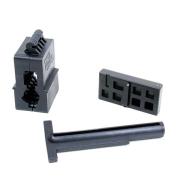 ProMag Upper and Lower Receiver Magazine Well Vise Block Set
$45.00
PM123A
Building your own AR? You'll need this. 3 pcs set of heavy duty blocks securely clamp all flat top and carry handle AR-15/M16 upper and lower receiver components to prevent damage or movement during repair, assembly and cleaning.


Join The Armory e-mailing list to be notified of special sales and promotions.
Your privacy is important to us - Each email contains a link to unsubscribe. The Armory will never sell, rent, or give your e-mail address to anyone. Email billg(at)the-armory.com

Order Status Information | Home | Handguns | Long Guns | Buy Ammo! | Don't see what you want? Click here for more!

This is our legal statement to let you know that we do not walk on water and we make mistakes. We are not responsible for typographical, technical, or descriptive errors of products herein. [Copyright©1988-2013 The Armory]