12 Gauge Ammunition
22 Ammunition

223 Ammunition
303 British Ammunition
308 Ammunition
40 Ammunition

45 Ammunition
5.45X39 Ammunition
5.7 Ammunition
7.62X39 Ammunition
7.62x54r Ammunition
8mm Ammunition

9mm Luger [9x19] Ammunition

Accessories

Aguila

AR-15 C-Products Magazines

AR-15 GEAR

AR-15 Lower Receivers

AR-15 Tools and Parts

ARMORY
Ball, Bullet and Patch
Black Powder / Muzzleloading
Bolt Action
Books, Periodicals, and Videos
Brass
Bullets
Buy Ammo!
Casting Supplies
Cleaning Supplies
Competition Ammo!
Cool Links, Sites and Webrings

Corbon Ammo
Cowboy Action
Defensive Ammo
Eyes, Ears and Safety Equipment

Federal Ammunition

FIND THE ARMORY!

Fobus Holsters

Full Size Sigs

GoldDot Ammo

Handgun Ammo

Handguns

Handguns - Glock

Handguns - Heckler & Koch

Handguns - Kimber

Handguns - Sig Sauer

Handguns - Springfield Armory

Hard-to-Find Ammo!
Holsters
Hunting Ammo!

Kimber Pistols Accessories
Kimber Spec

Leapers and UTG
Lights and Light Accessories

Long Guns
Magazines, Speedloaders, Clips and Mag Accessories

Magpul Products PMAG/Stocks

MagSafe Ammo
Non-Lethal Defense
One of a Kind

Optics - EOTech Holographic Sights

Optics - VISM Scopes

Optics, Scopes and Mounts

PMC Ammunition
Rails and Mounts

Remington Ammuntion

Rifle Ammo

Rifles - Olympic Arms AR-15

Rifles - Rock River Arms

Rifles - Sig Sauer

Rifles - Springfield Armory

Rimfire Ammo

Sellier & Bellot

SHIPPING & ORDERING INFO!

Sig Arms Pro
SigTac tactical Knives
Surplus military
Tactical Gear

Winchester Ammunition
Wolf Ammunition
Precision Shooting/Accurate Rifle


| Home | Order Status | View Cart | Ammo | Bulk Ammo | Magazines | Accessories | Handguns | Rifles |
Mosin Nagant
The Armory stocks a wide range of Mosin Nagant rifles, scopes, stocks, and 7.62x54r ammunition to satisfy the needs of plinkers, hunters, competitive shooters, and the avid Mosin Nagant aficionado. Being avid shooters and collectors ourselves, we enjoy trying out new rifles, carbines, ammunition and try to offer you Mosin Nagant rifles and accessories at very aggressive prices so that you can share in our most favorite pastime. Thanks to the miracle of Just-In-Time Distributing (JITD), we can also take special orders for almost any Barnaul, PMC, Winchester, Federal, Remington, Wolf and Surplus Military products.

If you're not sure you want a Mosin Nagant M44 I would suggest that you go to YouTube at the link below.

Click here Mosin Nagant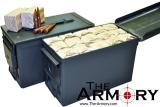 7.62x54r 148 gr FMJ Russian 600 Rounds Packed in a FREE US 50 CAL AMMO CAN
$124.99
76254RUSAMCAN


Russia 7.62 x54r 148gr FMJ. Affordable 7.62 x54r ammo for your Mosin-Nagants 91/30, m38, m44 and Dragunovs. Velocity 2785 fps, Energy 2549 ft lbs, Non Reloadable Berdan Primed Steel Case, Made in Russia Twenty rounds per package. 30 packages per 50 Cal Ammo Can 600 rounds). Manufactured in the late 1960's to early 1980's

Packed in an included FREE Used/Issued Milspec 50 Cal Ammo Can. These are genuine US Made [NOT made in China knock-offs]. Again they are are used/issued and have been fielded so they WILL have blemishes/scratches and may have minor rust but still work and seal just fine - Adds Character! Markings and condition will be random. All packages are inspected prior to being packed in the ammo can in a humidity controlled room.

| Velocity 2785 fps | Energy 2549 ft lbs | Non Reloadable Berdan Primed Steel Case | Made in Russia |




7.62x54r Match 182gr FMJ-BT PPU [20 rds]
$26.99
PP7.66BX


Rifle ammunition made by PPU, desire of many hunters, is real diamond in the rifle of every passionate hunter. Designed according to market demands, improved by precious suggestions of hunters, PPU ammunition is the result of up-to-date technical and technological solutions, long-term special research work of ballistics and hunting experts. It is made of high-quality raw materials and components carefully chosen according to its application.


| 7.62x54R MATCH | 182gr FMJ-BT | Velocity: 2624 | Energy: 2787 ft-lbs | Brass Cased | Boxer Primed | New Manufacture | NON-Corrosive |




Join The Armory e-mailing list to be notified of special sales and promotions.
Your privacy is important to us - Each email contains a link to unsubscribe. The Armory will never sell, rent, or give your e-mail address to anyone. Email billg(at)the-armory.com

Order Status Information | Home | Handguns | Long Guns | Buy Ammo! | Don't see what you want? Click here for more!

This is our legal statement to let you know that we do not walk on water and we make mistakes. We are not responsible for typographical, technical, or descriptive errors of products herein. [Copyright©1988-2013 The Armory]